Jupiter Homes for Sale
Updated Jupiter Real Estate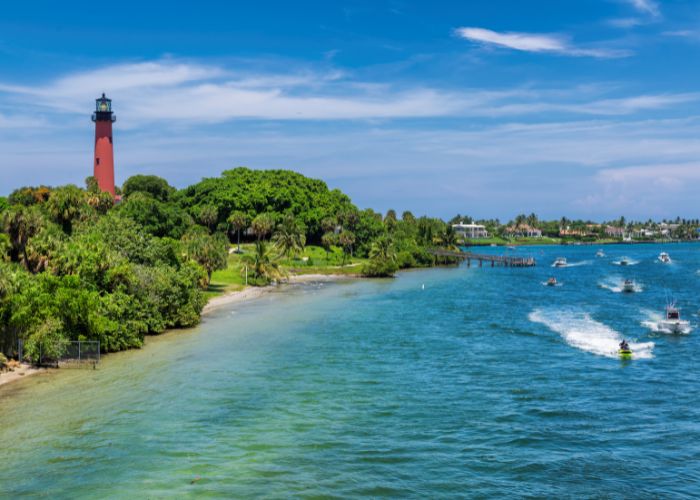 Overlooking the Loxahatchee River, Jupiter is a stunning city in Florida that combines beachfront estates and recreation with championship golf courses, master-planned communities, as well as multiple fine dining establishments and entertainment venues. Just to the north, across the Loxahatchee River, you can find the Village of Tequesta, adding even more to explore. Jupiter is beaming with everything you could need, from the Jupiter Medical Center to recreation, restaurants, award-winning schools, big box stores, and small boutiques; Jupiter truly has it all.
And, for your convenience, feel free to register for a free account to receive email alerts whenever new Jupiter listings that match your specific criteria come on the market.
Discover Jupiter Florida Real Estate: Luxury Homes for Sale on the Waterfront
Jupiter, Florida, real estate is a top destination for those seeking luxury homes on the waterfront. Boasting miles of pristine beaches, picturesque waterways, and many world-class amenities, this small town is the perfect location to live your ultimate Florida dream.
When it comes to homes for sale in Jupiter, Florida, you'll find an extensive range of options. From charming single-family homes to lavish mansions, the town offers a diverse selection of architectural styles, including Mediterranean-style homes and contemporary beachfront properties. Whatever your preference, Jupiter Florida has something for everyone. What makes Jupiter, Florida, real estate stand out is its abundance of oceanfront and waterfront properties. With easy access to the Atlantic Ocean and the Intracoastal Waterway, homeowners can enjoy various activities such as boating, fishing, swimming, and sunbathing.Luxury real estate in Jupiter, Florida, is particularly impressive, offering breathtaking ocean views, private beach access, and lavish amenities such as infinity pools, outdoor kitchens, and state-of-the-art home theaters. Whether you're looking for a spacious estate or a cozy beachfront bungalow, there's a Jupiter, Florida, luxury home for sale that will suit your needs. Aside from its waterfront properties, Jupiter, Florida, real estate also boasts world-class amenities, including exclusive country clubs, golf courses, and marinas, making it a popular destination for those who enjoy an active lifestyle. Residents can also take advantage of the town's numerous parks and nature preserves, as well as its exceptional schools, shopping centers, and restaurants.
In summary, Jupiter, Florida, is a sought-after location for those who value the finer things in life. With its stunning waterfront properties, luxurious amenities, and unparalleled access to some of the best beaches and waterways in the country, it's no surprise that Jupiter, Florida real estate continues to attract buyers from all over the world. If you want to experience the ultimate Florida lifestyle, Jupiter, Florida, should be at the top of your list.
Jupiter Homes for Sale
September 25, 2023
Why People Love Living in Jupiter
Jupiter is a stunning place to call home and residents love the tall swaying palm trees and tropical foliage that is immaculately manicured throughout the city. Multiple parks provide great spots for a picnic and with 3 golf courses residing within the city's limits, whether you're a novice beginner hoping to pick up a new hobby or you're an experienced professional who is looking for a day of leisure along the greens or hoping to perfect your par, you'll have plenty of courses and clubs to choose from.
Jupiter Schools
The city of Jupiter is served by the highly rated School District of Palm Beach County. As one of the most sought-after and highest rated districts within the Greater Miami area, Jupiter has been voted as a great city to raise a family in due to the highly rated public-schools it provides students in K-12. Additionally, you can find a handful of private schools as well as charter schools nearby, and for those who may be seeking higher educational needs, Jupiter is also home to the Harriet L. Wilkes Honors College campus.
Best Things About Jupiter
The Beach – Naturally, the beach is a huge draw to Jupiter and the city has just over 3 miles of beachfront. Not only is there plenty of space to sprawl out and soak in the sunshine amongst the crashing waves, but the beach also provides space for your furry friends to enjoy some sand and water play at Jupiter's Off-Leash Dog Beach.
Fun for the Whole Family – Jupiter is a great place to raise a family and you'll find plenty of places to put smiles on the faces of those young and old. Carlin Park is a great beachfront park that boasts tennis courts, walking trails, an amphitheater for seasonal events and concerts, playgrounds and more, allowing those of all ages to bask in Florida's beauty.
Jupiter Real Estate
Jupiter is the perfect place to call home and boasts a great range of real estate styles and prices. Jupiter is often known for is master-planned communities that boast resort-inspired amentias such as Admiral's Cove, Egret Landing, Jupiter Village, and Jupiter Plantation to name a few. Most of the homes you'll find within Jupiter are single-family homes, and you can find smaller ramblers as well as large mansions that boast private swimming pools. Multiple homes can be found along manmade waterways that provide private docks for homeowners allowing them to easily navigate out to the Atlantic Ocean via the Loxahatchee River. Even though single-family homes are among the most popular real estate style, Jupiter is also home to stunning condominiums including the highly sought-after Jupiter by the Sea.
For more information on Jupiter homes for sale and all real estate in Jupiter, contact our office today.
Contact Your Jupiter Realtor®
All Jupiter Neighborhoods
Search By Jupiter Property Types