Best Holiday Season Events in Palm Beach County [2022 Updated]
Posted by Ted Guarnero on Wednesday, November 30, 2022 at 12:15:46 PM
By Ted Guarnero / November 30, 2022
Comment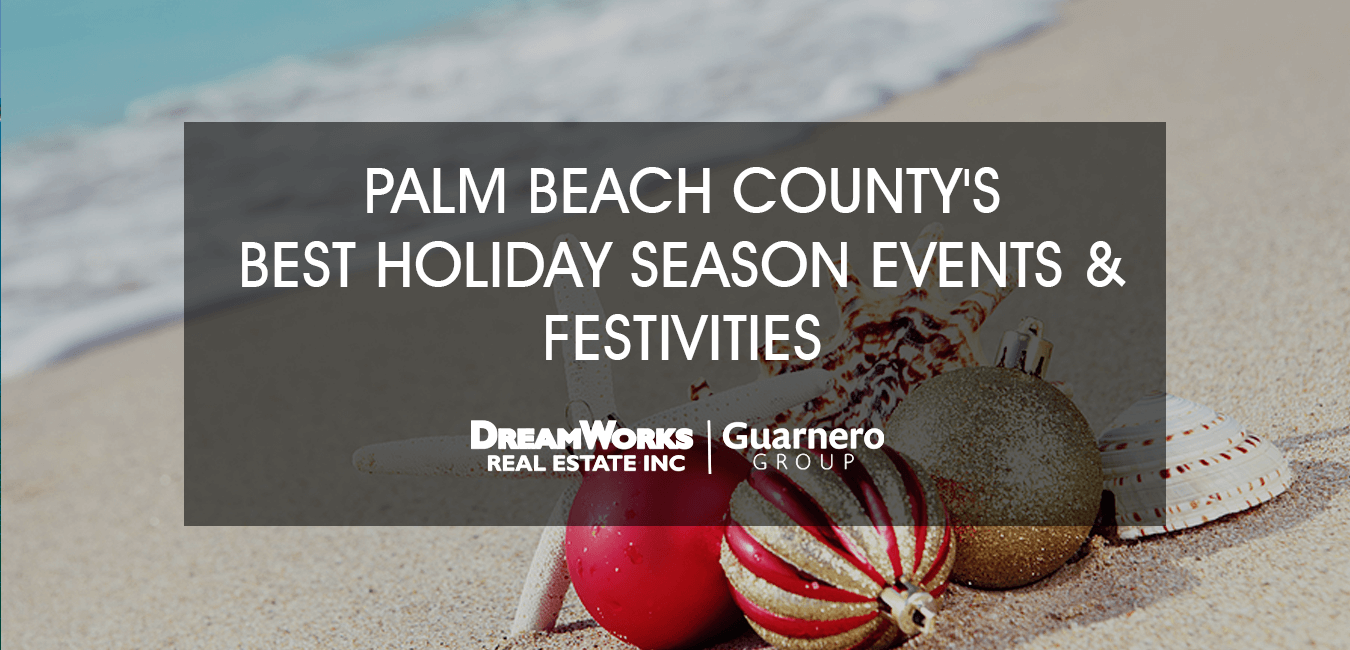 The holiday season has finally arrived, and even though our warm tropical climate may not feel like Christmas to some, Palm Beach County is one of the most festive places to celebrate the holidays. And to prove it, here's a look at just some of the most highly-anticipated holiday season events and festivities happening all throughout Palm Beach County, FL.
Palm Beach Holiday Boat Parade
North Palm Beach to Jupiter, FL - More Info
Nothing screams "Florida" like a good old fashioned boat parade, so why not do one to kick off the annual holiday season celebration? One of our favorite Palm Beach County holiday events, this year's boat parade will be on December 3rd and start at 6 pm sharp. Onlookers will be able to see boats of all sized super decked out in dancing lights, holiday adornments, and undoubtedly a few surprises along the way as well. Location-wise, the Palm Beach Holiday Boat Parade will start at the North Palm Beach Marina's Safe Harbor and will run north all the way up to the Jupiter Inlet Lighthouse. Up to 80 boats are expected to participate and the event is free and definitely family-friendly.
View this post on Instagram
West Palm Beach Christmas Balloon Festival
West Palm Beach, FL - More Info
Happening on the weekend of December 8-11, the West Palm Beach Christmas Balloon Festival is one of the more underrated holiday events of the year. Huge, glowing hot air balloons provide an unforgettable ambiance as festival goers have the opportunity to try some amazing food, shop from a variety of local boutiques and vendors, and participate in plenty of fun-filled actives for the kids. Tickets for the West Palm Beach Christmas Balloon Festival are only $14.99 and this year's event will happen right next to the Ballpark of the Palm Beaches, allowing for plenty of open space for all. Also, guests are encouraged to bring camping chairs or a picnic blanket to sit on.
View this post on Instagram
The Gardens Mall Pet Photos With Santa
Palm Beach Gardens, FL - More Info
If you're a regular visitor to our website, you might have already noticed we're huge dog lovers around here. From helping home buyers find the perfect pet-friendly condo to helping locals figure out which restaurants are dog-friendly, we take pride in being some of the pet-friendliest Realtors in all of South Florida. And that's why we couldn't put together a holiday event list without mentioning having your furry companion's photo taken with Santa over at The Gardens Mall. This year, all available dates are on a Sunday, with exact times featured below:
November 27 - 6-9 pm
December 4 - 6-8 pm
December 11 - 7-9 pm
December 18 - 8-10 pm
View this post on Instagram
Breakfast With Santa
Boca Raton, FL - More Info
If you're an early riser like many of us, holiday events in the morning or early afternoon might be more your speed, which is why you should check out Breakfast With Santa over at the Neiman Marcus at Town Center in Boca Raton. This lively event will include holiday tunes from a live DJ, festive balloon creations to help get you in the holiday spirit, and even a guest appearance from Santa Claus himself! Additionally, the breakfast menu will also include plenty of mouth-watering options like assorted breakfast pastries, Brioche French toast with whipped cream and berries, scrambled eggs for the kiddos, and even some apple wood smoked bacon and breakfast sausage because no breakfast is complete without bacon. Oh and did we mention there will also be mimosas for adults 21 and over? See you for a late holiday breakfast on Saturday, December 10th from 8:30 to 10:00 am.
View this post on Instagram
Hanukkah Menorah Lighting + Christmas Buffet
Boca Raton, FL - More Info
If you're a member of the dreamy, 200-acre Boca Raton Resort, don't forget about the club's annual Hanukkah Menorah Lighting, which will begin on December 18th. The lighting ceremony will take place from 5:30 pm to 6L15 pm on the Cloiser Main Courtyard and will include holiday music, cookies, and warm hot chocolate. And if you aren't Jewish, the club will also host a Christmas Grand Buffet on Christmas Day that will offer over-the-top holiday classics with a twist, an iced seafood station and sushi bar, and a magificent display of desserts from Chef Sebastien Feneyrol. Holiday yule logs, decorative pies, and all the Christmas cookies you can handle are expected. Resort elegant attire will be required, and flip flops are not permitted.
View this post on Instagram
Palm Beach Zoo Lights
West Palm Beach, FL - More Info
Another one of our holiday favorites in Palm Beach County, Zoo Lights at the Palm Beach Zoo illuminates the grounds with more than one million, eco-friendly holiday lights—a spectacle that can't be missed for any and all animal lovers. Uniquely themed displays are always on-hand at Palm Beach County's Zoo Lights, which you'll be able to enjoy from 6:00 to 9:00 pm on select evenings all the way through January 2nd. Along with spectacular light displays, the holiday fun will also include photos with Santa, a holiday dance part, seasonal treats, and a few surprises along the way as well. Check it all out at the Palm Beach Zoo & Conservation Society, located at 1301 Summit Boulevard in West Palm Beach.
View this post on Instagram
Jupiter-Tequesta Christmas Parade
Jupiter/Tequesta, FL | More Info
Who doesn't love a classic and traditional parade, especially during the holiday season? We know certainly do, and this year's marks the 46th year of the annual Jupiter-Tequesta Christmas Parade, a local favorite when it comes to holiday season events in Palm Beach County. The 2022 parade theme is "Super Heroes Celebrate Christmas," which means all your favorite super heroes and comic book characters will be helping decorate the Christmas tree, placing gifts underneath the tree with the elves, and having all sorts of fun up and down the parade route. Sponsored by the Jupiter Tequesta Athletic Association, this year's parade will be on Sunday December 11th, so be sure to save the date!
View this post on Instagram
Related South Florida Lifestyle Content: