10 Ten Reasons People Are Flocking to Florida
Posted by Ted Guarnero on Thursday, June 23, 2022 at 10:44 AM
By Ted Guarnero / June 23, 2022
Comment
People across the country are making mass exodus is out of certain states for various reasons. Be it political, economical, financial, occupational, or family related, people are moving to and from states around the country at a massive rate right now. However, states like Florida are definitely getting an influx of residents. Why is that? What's so great about Florida… Other than the weather of course!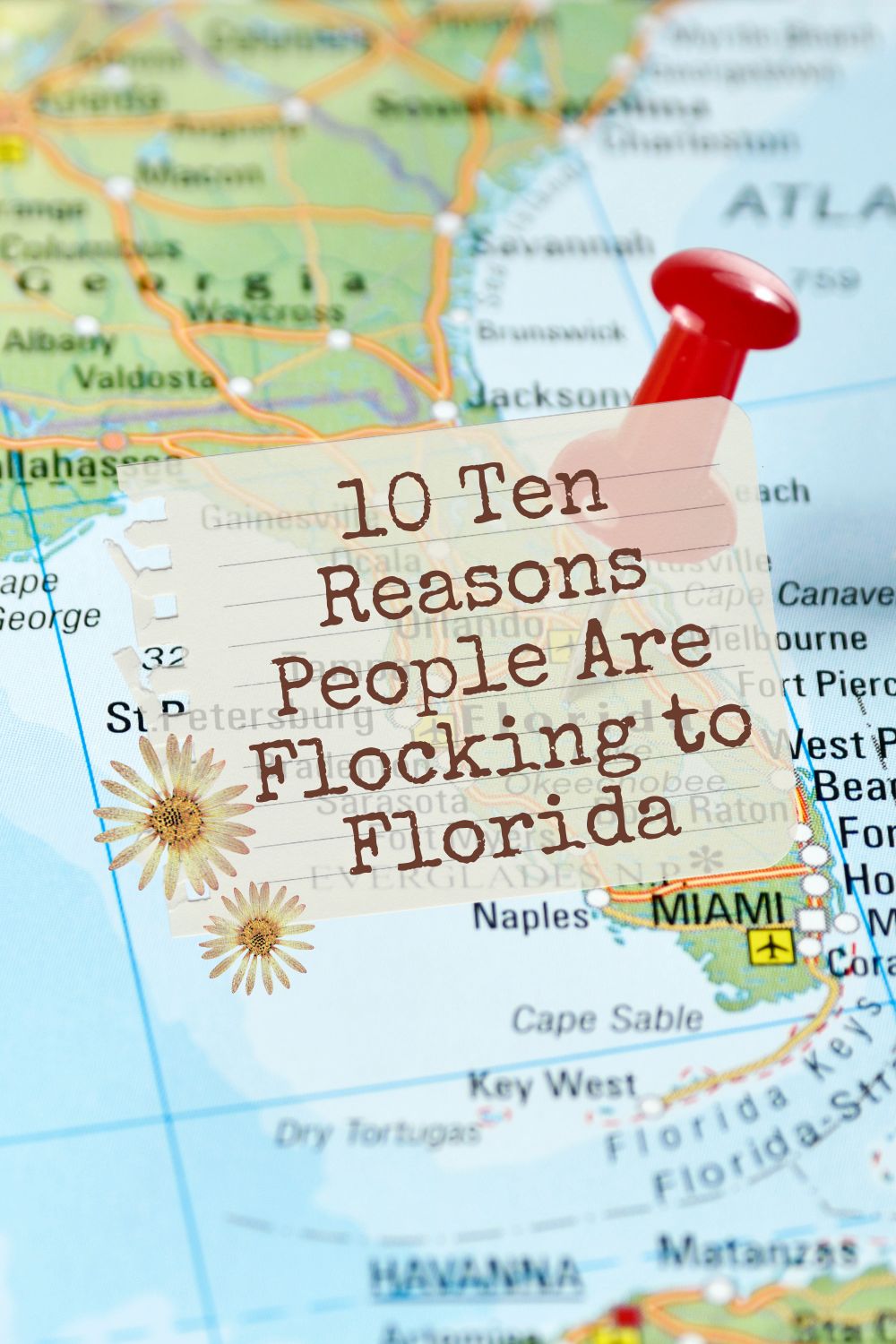 But, our weather is not for everyone, if you love to be buried under 3 feet of snow each winter, Florida may not be the place for you. However, if you love fun in the sun and fantastic beaches, Florida might be right up your alley. But that's not the only reason to move to Florida. Here are some of the top 10 reasons people are moving to Florida.
#1. No state income tax.
If you're looking to save money on taxes, Florida might be for you. And who isn't? This state is one of the very few in the nation that does not require state income tax. There are sales and property taxes but your overall tax burden will be much less than in many states in the US. This will give you a lot of extra money for entertainment, vacations (even though you're pretty much in a vacation state now) and anything else.
#2. We have the beaches.
If the beach is calling your name, Florida has some of the best in the world… Seriously! Like, we are in travel magazines and have one best in the world awards. And we have beaches all over the state both on the southeast Florida side and the Southwest side. You're never more than a couple of hours from a beach regardless of where you are in the state. So if the beach and the ocean is calling your name, Florida answers.
#3. Florida has culture.
Some amazing Cuban food to unique international festivals, Florida is a hub for multiple nationalities from South America, the Caribbean islands, Cuba, Portugal, and of course, from everywhere around our beautiful country. You'll find it in different heritages, the food, music, and the art scene.
#4. Housing is affordable.
Of course, affordable is all relative, but when most people can afford a home that's under 35% of their income, that's considered affordable. From beautiful condominiums and villas, to low maintenance town houses, single-family homes, and of course, your luxury beachfront resorts, Florida has a wealth of real estate and land. And much of it is on the water. You'll find so many waterfront homes because of our plethora of lakes, canals, waterways, and inlets.
#5. Golf is our thing.
Did you know that Florida has over 1100 golf courses and host nearly 48 million rounds of golf annually. Over half of those enjoying golf are from local residents themselves. About 33% are from out-of-state visitors. We love golf and with so much land, those unique water hazards I was talking about earlier, and beautiful scenery and weather, golf is a given in Florida. There are many golf communities as well so if you're looking to be close to the course, we can find a home for you.
#6. Theme parks.
When you're tired of simply lounging on the beach (if that is even possible) maybe it's time to hit a theme park. From Disney World to Epcot Center, Universal Studios and a wealth of other unique theme parks around the state, fun for the whole family is just an hour or two away from most major cities in Florida. Disney World and Orlando is just two hours from Jupiter and Palm Beach Gardens so it makes an easy day trip or weekend excursion.
#7. Cost of living.
The cost of living in Florida is about 1% lower than the national average but it also depends on which city you choose to live in. Some cities rank higher or lower than the national average so it's important to compare the cost of living in various cities. If you're moving from extremely expensive cities such as San Diego or New York City, your money will stretch much farther in Florida.
#8. It's not just for retirees.
However, this is a retirees haven. If you're planning on retiring or have already retired and are looking for the perfect home destination, Florida is it but you don't have to be retired or even heading that way to enjoy all the immense benefits of living in Florida. We have excellent schools if you are in that time of life. The diversity, nightlife and entertainment is endless. We have a booming job market along the southeast Florida coast and even the Southwest coast in areas like Tampa. The job market is thriving, schools are excellent, and when the time comes to enjoy those golden years, you can do it with ease in the comfort of a fantastic home in one of our 55+ communities.
#9. It's a sports paradise.
If you love sports, Florida is home to collegiate and professional teams. There is a team for everyone in just about every sport so whether it's national hockey, football, basketball or baseball, you can find a pro team or even a college level team to root for. Plus, we have the famous Daytona International Speedway, about three hours north of West Palm Beach. So you can get your NASCAR on just about every weekend.
#10. The economic realities.
Look, I'm not going to sugarcoat it by saying Florida is fully conservative or liberal. The economic climate and political climate shifts and changes each decade so I would not base your relocation around what the current and the sometimes temporary political climate is for our state. You might love it, you might hate it, but regardless, there are so many other reasons to love Florida than simply political. The point is… You do you! With great schools, great weather, a feeling like you're on vacation all the time, fantastic entertainment and sports, there's really very little to hate about Florida.
Ready to consider a move to Florida? Start browsing my most popular South East Florida cities below or contact my office to learn more about where in Florida you should live.